AWW Bass Anglers Classic Fishing Tournament

May 6, 2017
Thanks to AWWA Vice-President, Michael Freeman, we are excited about the first-ever Alabama Water Watch Association Bass Anglers Classic fishing tournament to be held on Saturday May 6th at Wind Creek State Park on Lake Martin; for details see: http://www.alabamawaterwatch.org/special-events/ .
Please consider either 1) participating in the tournament, or 2) assisting Michael and AWWA on tournament day – help is needed particularly in the morning of the tournament to register all participants. To help, contact Michael at (334)740-1267, or h2otiger1972@charter.net .
All proceeds of this event will go to payouts to tournament winners, and the AWWA for providing water monitoring kits and educational outreach throughout Alabama.
Kudos to Michael for this innovative approach to reach out to stakeholders who are intimately associated with Alabama's waters in support of the Alabama Water Watch mission to improve both water quality and water policy through citizen monitoring and action!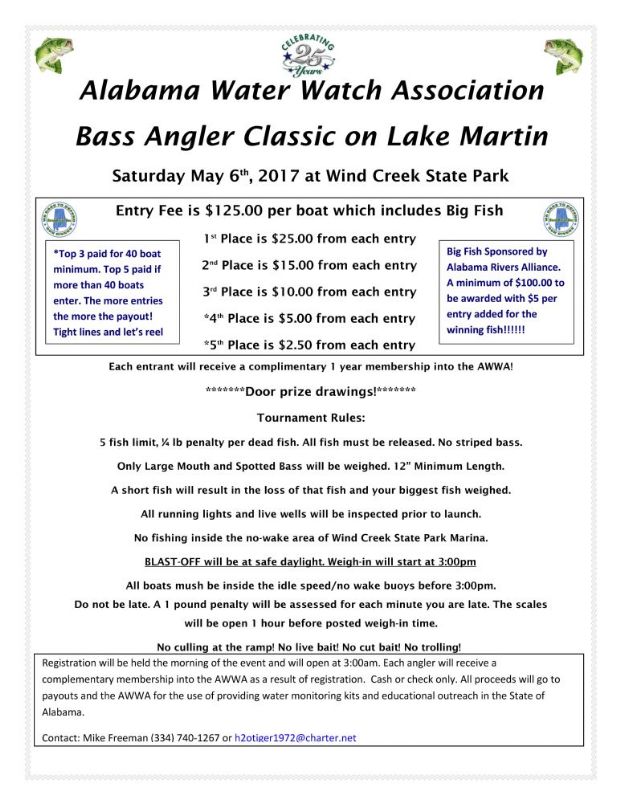 244B7F2F-041F-42E7-849B-BDB4384E50E2
---
---