Jazz at Lincoln Center with Wynton Marsalis

April 21, 2021
The Jazz at Lincoln Center Orchestra with Wynton Marsalis (JLCO) comprises 15 of the finest jazz soloists and ensemble players today. Led by Wynton Marsalis, this remarkably versatile orchestra performs a vast repertoire ranging from original compositions and Jazz at Lincoln Center-commissioned works to rare historic compositions and masterworks by Duke Ellington, Count Basie, Fletcher Henderson, Thelonious Monk, Mary Lou Williams, Dizzy Gillespie, Benny Goodman, Charles Mingus and many others.

The JLCO has been the Jazz at Lincoln Center resident orchestra since 1988, performing and leading educational events in New York, across the U.S. and around the globe. Alongside symphony orchestras, ballet troupes, local students, and an ever-expanding roster of guest artists, the JLCO has toured more than 300 cities across six continents.

In 2015, Jazz at Lincoln Center announced the launch of Blue Engine Records, a new platform to make its archive of recorded concerts available to jazz audiences everywhere. The first release from Blue Engine Records, Live in Cuba, was recorded on a historic 2010 trip to Havana by JLCO and was released in October 2015. To date, JLCO has released 14 other recordings internationally.

With the world-renowned JLCO and a comprehensive array of guest artists, Jazz at Lincoln Center advances a unique vision for the continued development of the art of jazz by producing a year-round schedule of performance, education and broadcast events for audiences of all ages. This concert experience is an event to be treasured by all lovers of jazz music.

Presented as part of our 2019–20 inaugural season Jazz series.

Sponsored by The Casadaban Family.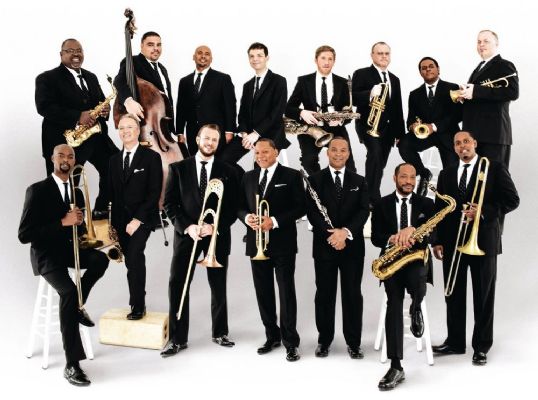 C922E067-BE85-4A9C-9877-2A22C55FD349