Thursday's Music on the Dadeville Square

June 17, 2021
June 17, 2021
Thursday
6:30 PM - 8:00 PM
Website
www.ZazusVerandah.com
Location
Zazu's Verandah
128 W. Cusseta Street
Dadeville, AL 36853
www.ZazusVerandah.com
Contact Name:
Mitzy Hidding
Phone:
2563072188
Web site:
www.ZazusVerandah.com
June 17, 2021 – Matt and Tom Campbell: Matt and his brother Tom began their musical career playing small gigs around their hometown of New Orleans. Since moving to Dadeville, the Campbell Brothers have played around town delighting citizens of all ages who so enjoy hearing Matt and Tom Campbell. The brothers still feel most comfortable in smaller settings, especially around the campfire with family, so don't miss this opportunity, come hear them live on the Dadeville Square Thursday, June 17th at 6:30 pm.
Mark your calendar to come to the beautiful Dadeville Square for live music on Thursday nights from May 13th – July 1st. Bring your chair to enjoy a variety of great music played under the awning at Zazu's Verandah. Come a little early, Z's V will be open and selling beverages. Come do a bit of social distancing while enjoying music and libations at our beautiful town square!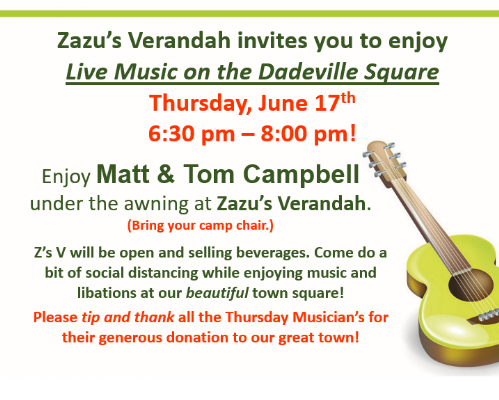 ---
Send Email to Event Contact
---
Member Comments…
---
EEC13417-A702-4067-96CF-7A9D6441093D