AWW Bass Anglers Classic Fishing Tournament

February 22, 2020
February 22, 2020
Saturday
6:00 AM - 3:00 PM
Website
https://ogstournaments.com/2019-benefit-tournaments
Location
Wind Creek Marina
Contact Name:
Michael Freeman
Phone:
(334) 740-1267
Thanks to AWWA President, Michael Freeman, we are excited about the Second Annual Alabama Water Watch Association Bass Anglers Classic fishing tournament to be held on Saturday February 22nd at Wind Creek State Park on Lake Martin; for details see: https://ogstournaments.com/2019-benefit-tournaments .
Please consider either 1) participating in the tournament, or 2) donating to Alabama Water Watch Association or Lake Watch Lake Martin.
All proceeds of this event will go to payouts to tournament winners, and the AWWA for providing water monitoring kits and educational outreach throughout Alabama.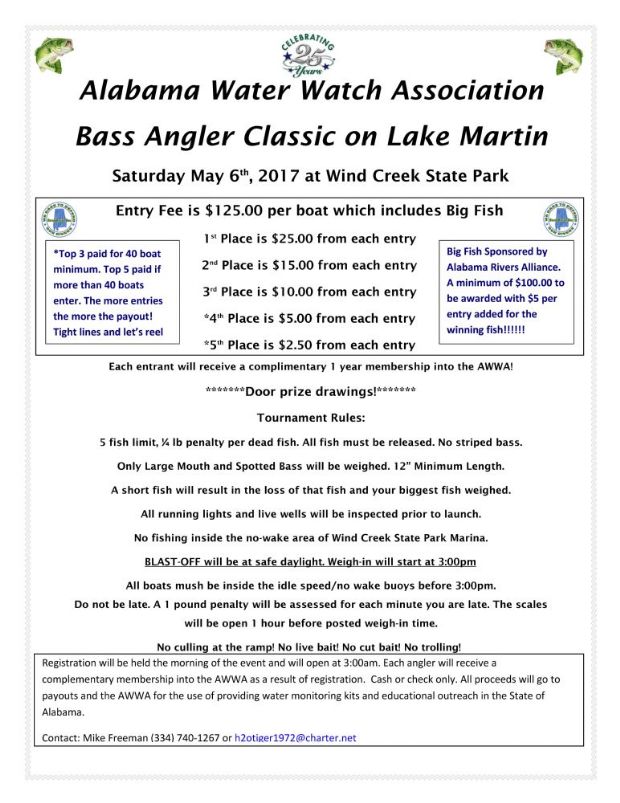 ---
Send Email to Event Contact
---
Member Comments…
---
244B7F2F-041F-42E7-849B-BDB4384E50E2
---
---