Christmas Music in the Air on the Dadeville Square

December 9, 2021
December 9, 2021
Thursday
6:30 PM - 8:30 PM
Website
www.ZazusVerandah.com
Location
Zazu's Verandah in our listening room
128 W. Cusseta Street, P.O. Box 35
Dadeville, AL 36853
www.ZazusVerandah.com
Contact Name:
Mitzy Hidding
Phone:
2563072188
Web site:
www.ZazusVerandah.com
Jazz virtuoso David Jones will be live in the Listening Room at Zazu's Verandah on Thursday, December 9th from 6:30 – 8:30 pm playing Christmas Music and a few other favorites!
Mark your calendar to come get in the Christmas spirit with friends while enjoying a relaxing evening of music.
Zazu's Verandah has an ABC License and will have wine and beer for sale. We look forward to seeing you on the beautifully decorated Dadeville Square for this Christmas music event!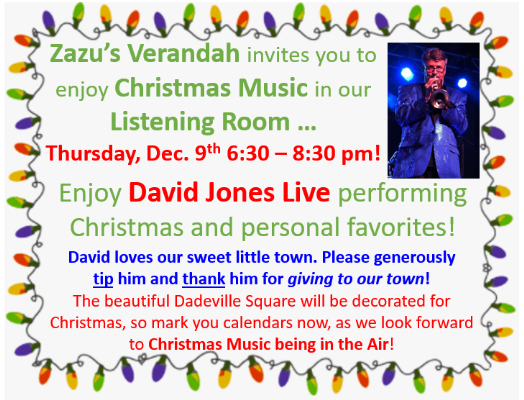 ---
Send Email to Event Contact
---
Member Comments…
---
D65E5F00-FC3A-46B2-B988-4390B0222D85
---
---