2022 Moonlight Series Fishing Tournament

June 10, 2022
June 10, 2022
Friday
6:30 PM - 12:30 AM
Website
https://www.facebook.com/events/312888934016400/356024899702803/
Location
D.A.R.E Power Park
4633 Young's Ferry Rd
Jacksons Gap, AL 36861
Contact Name:
OGS Tournament Trails
Phone:
(334) 740-1267
Web site:
https://ogstournaments.org
Six events held on Friday nights between April 29th and June 24th out of Dare Park Ramp. $140 per boat includes Big Fish and Big Spot with 80% payback of $100. Moonlight Series Champion receives $1,000 and paid entry into 2023. Pays 1 place for every 7 entered. Green Monster Fishing Lights is the Big Fish sponsor which proivides an additional $100 into the big fish pot for each event. If the big fish is a spotted bass the pots are combined. Registration taken at the ramp at each event. Each Event runs 6:30PM-12:30AM.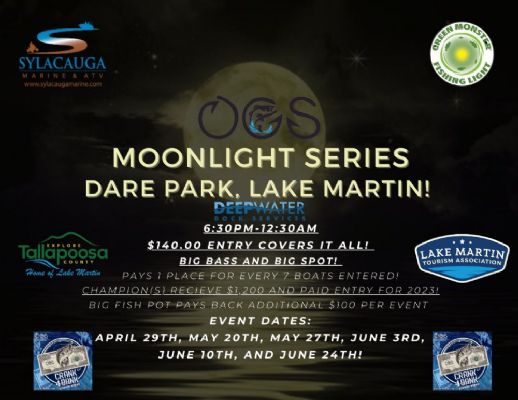 ---
Send Email to Event Contact
---
Member Comments…
---
13CFF625-BFAA-49B7-BF3E-0FA374DD30C9
---
---