Thursday Music INSIDE The Listening Room at Zazu's Verandah

April 13, 2023
April 13, 2023
Thursday
6:30 PM - 8:30 PM
Website
www.ZazusVerandah.com
Location
Zazu's Verandah on the beautiful Dadeville Square
128 W. Cusseta Street - on the beautiful Dadeville Square
Dadeville, AL 36853
www.ZazusVerandah.com
Contact Name:
Mitzy Hidding
Phone:
256-307-2188
Web site:
www.ZazusVerandah.com
April 13, 2023 – Chad Jernigan…is a singer, songwriter and guitarist from Phenix City, AL. Chad delights his audiences with classic rock and country hits from the 60's through the 90's as well as with some of his own originals.
Please be certain to generously tip and thank all the musicians for GIVING to our great little town.
Don't miss out, come hear Chad Jernigan live inside The Listening room at Zazu's Verandah Thursday, April 13th at 6:30 pm.
** Zazu's Verandah will be selling beverages for your listening pleasure!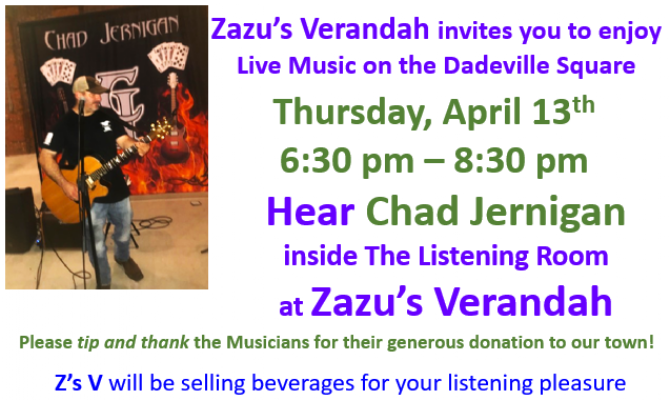 ---
Send Email to Event Contact
---
Member Comments…
---
B620BF89-81F3-42AB-8882-FB16660D24B8
---
---