Thursday Music INSIDE The Listening Room at Zazu's Verandah

April 27, 2023
April 27, 2023
Thursday
6:30 PM - 8:30 PM
Website
www.ZazusVerandah.com
Location
Zazu's Verandah on the beautiful Dadeville Square
128 W. Cusseta Street - on the beautiful Dadeville Square
Dadeville, AL 36853
www.ZazusVerandah.com
Contact Name:
Mitzy Hidding
Phone:
256-307-2188
Web site:
www.ZazusVerandah.com
April 27, 2023 – Rick Murray & Brett Foshee play country, rock, folk, easy listening and original music. Recently they have been working with Songwriters out of Muscle Shoals and working on a new CD. You can catch them playing around Auburn/Opelika, Lake Martin, Montgomery and the Birmingham delighting crowds wherever they play.
Find them on Facebook at https://www.facebook.com/richaumusic.
Hear them live inside The Listening Room at Zazu's Verandah on the Dadeville Square on Thursday, April 27th at 6:30 pm.
** Zazu's Verandah will be selling beverages for your listening pleasure!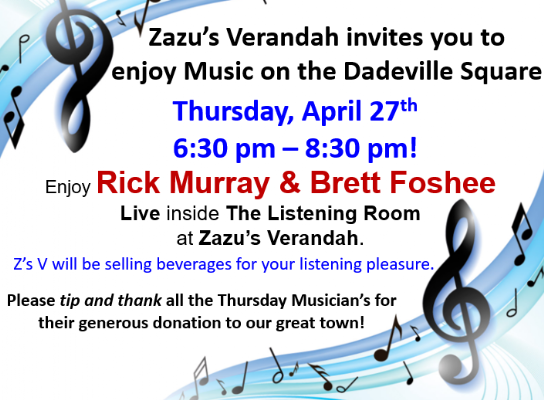 ---
Send Email to Event Contact
---
Member Comments…
---
55995F7B-39BD-49E6-8DB1-40ACE49F4F4F
---
---