Thursday Music On the Dadeville Square at Zazu's Verandah

June 1, 2023
June 1, 2023
Thursday
6:30 PM - 8:30 PM
Website
www.ZazusVerandah.com
Location
Zazu's Verandah on the beautiful Dadeville Square
128 W. Cusseta Street - on the beautiful Dadeville Square
Dadeville, AL 36853
www.ZazusVerandah.com
Contact Name:
Mitzy Hidding
Phone:
256-307-2188
Web site:
www.ZazusVerandah.com
June 1, 2023 – Chris Costell is a local musician with a deeply soulful voice where prior to settling down in Montgomery, he traveled often playing venues around the country. Cris now enjoys being a down home solo act playing for the love of music and to see smiles on people's faces.
Check out Cris Costell Music on TikTok.
Please be certain to generously tip and thank all the musicians for GIVING to our great little town.
Don't miss out, come hear Chris Costell live at Zazu's Verandah, under the awning, Thursday, June 1st at 6:30 pm.
Bring your camp chairs.
** Zazu's Verandah will be selling beverages for your listening pleasure!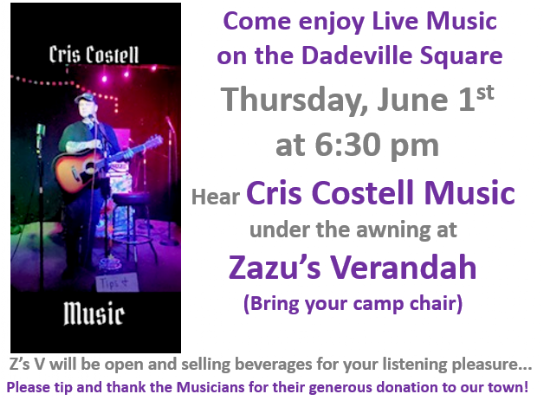 ---
Send Email to Event Contact
---
Member Comments…
---
0262DC2F-59EA-4DE0-9846-02D366410874
---
---